Black Construction
Black Construction Corporation (BCC) has a proud reputation as the most experienced and largest construction company in the Western Pacific.

Throughout Guam, the CNMI, Micronesia and the Philippines, BCC has a successful history of construction projects which encompass multi-discipline and project management requirements in civil, structural, architectural, mechanical and electrical engineering.

This long and proven history has provided Black with invaluable knowledge and a reputation of an unwavering commitment to project safety, quality product of the highest standards through its excellence in estimating, engineering, scheduling and construction expertise.



2013 GCA/ABC Excellence in Construction OVERALL Winner
Black Construction took home both top awards (1st & 2nd place OVERALL) as well as 7 category awards at the 2013 Excellence in Construction Awards Ceremony held on November 1, 2013.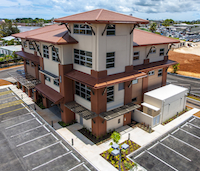 CLICK HERE
to see story.