Repair Roof, North Power Plant, Diego Garcia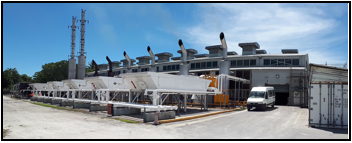 PROJECT DESCRIPTION:
The U.S. Navy Support Facility (NSF) Diego Garcia is located in the Indian Ocean within the British Indian Ocean Territory (B.I.O.T.). NSF Diego Garcia is located south of equator approximately 2900 kilometers southwest of Bombay, India and approximately 2400 kilometers northeast of Mauritius, 4,723 km west-northwest of the west coast of Australia, and approximately 8,906 kilometers southwest of Guam.
Diego Garcia is a narrow coral atoll, is the largest of the 60 small islands comprising the Chagos Archipelago, being an atoll occupying approximately 174 square kilometers, of which 27.19 square kilometers is dry land. The coral atoll is horseshoe-shaped giving it the nickname "Footprint of Freedom" with an opening approximately 6.4 kilometers wide where the lagoon transitions into the Indian Ocean. The land distance from tip to tip of the atoll is 64 kilometers, enclosing a lagoon 21 kilometers long and up to 11 kilometers wide. The total land area is approximately 2720 hectares. Grade elevations on the atoll range between one to nine meters above Mean Sea Level (MSL) with an average elevation of 1.8 meters MSL.
Contracted Scope of Work: A design-bid-build project to remove existing and provide new metal roof panels of the North Power Plant, including insulation and accessories as indicated in the plans.
Work also included the following:
Removal of existing and provision of new upper siding at west side of the plant.
Removal of existing and provision of new absorption panel.
Remove and dispose selected structural roof framing members such as rafters, purlins, cross bracing and sag channels.
Provision of new structural roof framing members.
Provision of new fall protection roof anchors.
Removal of existing and provision of new 13 unit of 15-HP roof exhaust ventilators fans on top of the plant roof above generator and Engines # 1 to # 6.
Removal, reinstallation and provision of new lighting fixtures, conduits and wires in specific areas as shown in the plans including electrical works related (control system, devices, switches, breakers, wires and cables, etc.) to roof exhaust fans.
Protection of all existing building components not included in the scope of work.

Owner:
U.S. Department of the Navy
Contract No.:
N62742-14-D-1303 Task Order 0018
Original Contract Amount:
$3,233,625.75
Final Contract Amount:
$2,980,208.88
Original Contract Completion Date:
Original CCD (290 days) October 27, 2016
Agreed CCD (350 days) December 26, 2016
Final Contract Completion Date:
August 20, 2017
Start Date:
September 06, 2016
Contact Name:
Cecille C. Penaflorida – PMEB Director
315.370.3560
Was Offeror Prime Contractor or Subcontractor:
Prime
Percentage of Work Performed:
100%
Liquidated Damages Assessed:
None
Project Manager:
Adolfo Nierva (Guam)
Mario Agsoy (Diego Garcia)
Job-Site Superintendent:
Robert Redolozo
Customer Evaluation:
Final – Satisfactory