CONSTRUCT 1-EA RADOME, C-SITE – U.S. NAVAL SUPPORT FACILITY, DIEGO GARCIA
CONSTRUCT 1-EA RADOME, C-SITE – U.S. NAVAL SUPPORT FACILITY, DIEGO GARCIA, BRITISH INDIAN OCEAN TERRITORY (B.I.O.T.)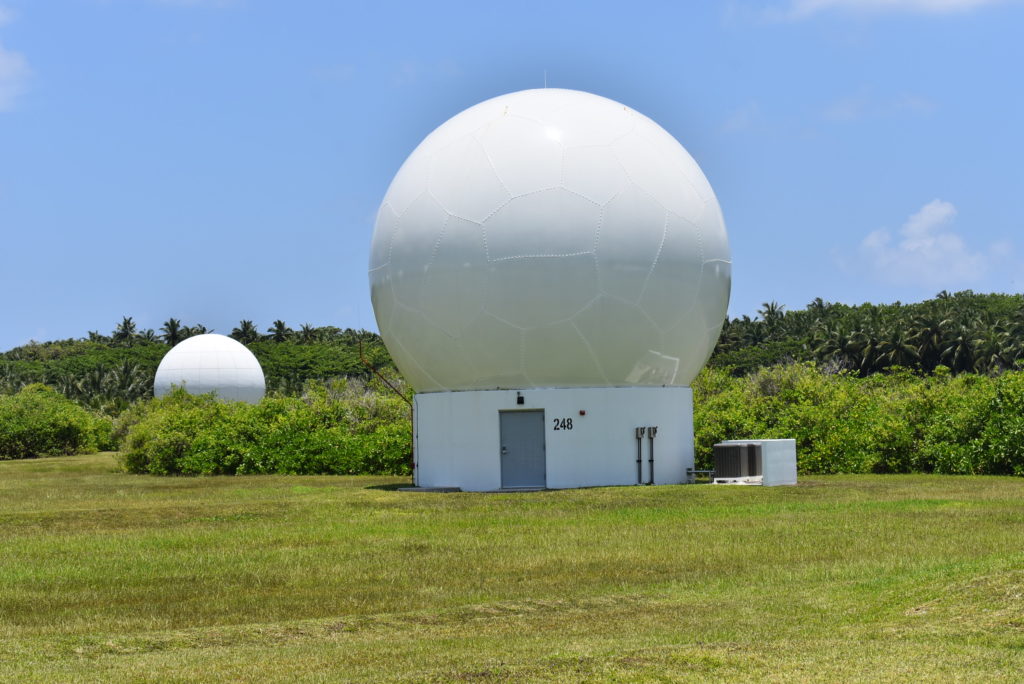 PROJECT DESCRIPTION:
The U.S. Navy Support Facility (NSF) Diego Garcia is located in the Indian Ocean within the British Indian Ocean Territory (B.I.O.T.). NSF Diego Garcia is located south of equator approximately 2900 kilometers southwest of Bombay, India and approximately 2400 kilometers northeast of Mauritius, 4,723 km west-northwest of the west coast of Australia, and approximately 8,906 kilometers southwest of Guam.
Diego Garcia is a narrow coral atoll, is the largest of the 60 small islands comprising the Chagos Archipelago, being an atoll occupying approximately 174 square kilometers, of which 27.19 square kilometers is dry land. The coral atoll is horseshoe-shaped giving it the nickname "Footprint of Freedom" with an opening approximately 6.4 kilometers wide where the lagoon transitions into the Indian Ocean. The land distance from tip to tip of the atoll is 64 kilometers, enclosing a lagoon 21 kilometers long and up to 11 kilometers wide. The total land area is approximately 2720 hectares. Grade elevations on the atoll range between one to nine meters above Mean Sea Level (MSL) with an average elevation of 1.8 meters MSL.
Project Scope: The project called for the construction of a new radome to house an additional antenna for the expansion program of NSFDG. The work consists of building a foundation, wall, slab, pedestal for antenna, mechanical enclosure for the new A/C system, electrical handholes, ductbanks and installation of new electrical system especially installation of Fire Alarm and Mass Notification System (FAMNS).
Several Notable features of work included:
Completing the structure and setting up all anchors in its proper place and spacing before installation of antenna dome arrives.
Integration of new radome to the other existing facilities without encountering major problem.
Replacement of gable type galvanized steel rigid frame by supporting the whole roofing system with scaffolding/shoring system to ensure the whole facility is safe and the integrity of the whole structural components were not compromised.
Able to provide a continuous cooling for the whole facility to support the electronic components of the antenna.
Building energy efficiency was greatly improved and maintenance costs reduced through the newly A/C equipment.
Procurement and logistics are very challenging for all of our work on Diego Garcia as the IDIQ task orders with the Navy are subject to the Buy American Act and all shipments into or out of Diego Garcia must either be on a Military Sealift Command vessel or Air Mobility Command aircraft unless by special and extremely expensive U.S. flagged tug and barge charter approved in advance by the Navy. There are no commercial ocean vessels or aircraft serving Diego Garcia. Consequently, we have to source all of our materials and equipment in the U.S. or from an approved trading nation under the Buy American Act and all of these goods must be first shipped to Singapore on a U.S. flagged vessel due to the Transportation by Sea Act.
Owner:
U.S. Department of the Navy
Contract No.:
N62742-14-D-1303
Task Order N40084-17-F-4309
Original Contract Amount:
$1,230,430.25
Final Contract Amount:
$1,230,430.25
Original Contract Completion Date:
March 7, 2018
Final Contract Completion Date:
May 15, 2018
Actual Date Contract Accepted:
September 15, 2017
Start Date:
September 15, 2017
Was Offeror Prime Contractor or Subcontractor:
Prime
Percentage of Work Performed:
100%
Liquidated Damages Assessed:
None
Project Manager:
Rene A. Bautista
Customer Evaluation:
Final CPARS – Satisfactory