Safety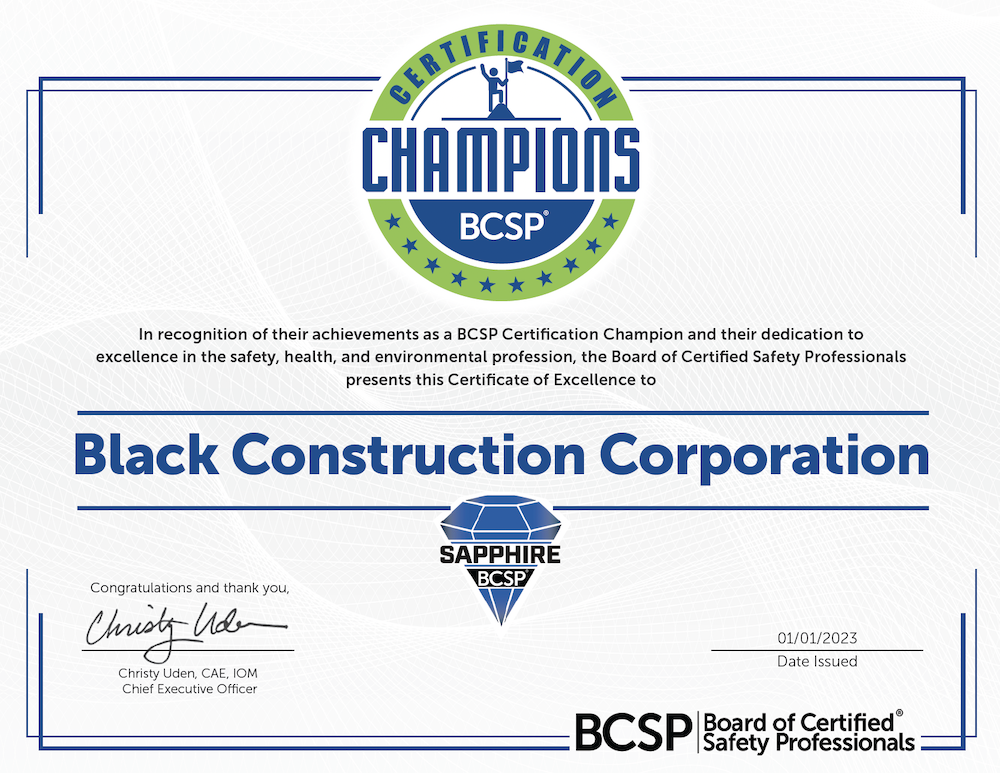 MISSION STATEMENT
It is the mission of Black Construction Corporation to provide a safe work environment for all of our employees, as well as providing for the safety of our clients and the general public on all our projects. BCC management will provide the leadership and support in order to develop and maintain an effective Injury and Illness Prevention Program.
MANAGEMENT COMMITMENT
Managers must demonstrate a commitment in providing safe, sanitary and healthy working conditions on all Black Construction Corporation owned and leased installations. Managers are encouraged to become engaged in daily character building and be held accountable for the safety performance and compliance with OSHA and USACOE EM385-1-1 standards and regulations.
VISION STATEMENT
Black Construction Corporation will play an integral role in becoming a leader in occupational health and safety for the public and private sectors by demonstrating a commitment to providing a safe work environment in all of our business endeavors. Black Construction Corporation is committed to participation in the OSHA Voluntary Protection Programs (VPP).
Pride in SafetyAssociated Builders and Contractors have recognized BCC with the highest level STEP Award consistently since 2002.  The Platinum Award rewards ongoing efforts in the development of a quality safety program that focuses on training and evaluation of safety practices.
GUIDING PRINCIPLES
The guiding principles of Black Construction Corporation are:
People – Employees are the most valued resource. Our employees must be provided a safe and positive work environment.
Customers – When our employees work safer and smarter the results are reflected in our overall performance evaluations received from our customers.
Excellence – We will demonstrate that management and employee attention to safety is vital to good business.
Integrity – As a leader in occupational health and safety, we strive to provide the highest level of integrity with our customers, business partners, and the community.
Community Responsibilities – When our employees work safely and diligently we are not only providing a safe working environment but setting an example of a health and safety excellence throughout the community.
VOLUNTARY PROTECTION PROGRAMS
Black Construction Corporation is committed to participation in the OSHA VPP. These programs recognize and establish partnerships with businesses and worksites that show excellence in occupational health and safety. Black Construction Corporation hereby indicates its unwavering commitment to effective employee protection beyond the requirements of OSHA standards. Black Construction Corporation is also committed to developing and implementing systems that effectively identify, evaluate, and control occupational hazards to prevent employee injuries and illnesses.
SAFETY STAFF
BCC employs a staff of qualified NAVFAC Level 5 and 6 safety professionals recognized by the Board of Certified Safety Professionals (BCSP) and the American Society of Safety Engineers (ASSE).  These individuals have achieved the following credentials:
Associate Safety Professional (ASP)
Certified Safety Professional (CSP)
Construction Health and Safety Technician (CHST)
Safety Trained Supervisor (STS)
Safety Trained Supervisor-Construction (STS-C)
BCC Safety Officers are recognized members of the American Society of Safety Engineers (ASSE). These professional safety societies are dedicated to the advancement of safety at work and at home.
SAFETY AWARDS & RECOGNITION
| | | | |
| --- | --- | --- | --- |
| YEAR | | | AWARD |
| 2019 | | | Guam Contractors Association (GCA) Special Safety Award for the USN Wholehouse Revitalization, Phase II (59 Units), Lockwood Terrace, Naval Base, Guam (Up to $100 Million) |
| 2018 | | | Associated Builders and Contractors (ABC) STEP Diamond Award. |
| 2018 | | | Associated Builders and Contractors (ABC) National Safety Merit Award. |
| 2018 | | | Guam Contractors Association (GCA) Special Safety Award for the Navy Federal Credit Union Guam Branch Renovation (Less than $4 Million) |
| 2017 | | | Associated Builders and Contractors (ABC) National Safety Excellence Award. |
| 2017 | | | Guam Contractors Association (GCA) Special Safety Award for the Chuuk National Airport Rehabilitate Runway 04/22-Phase II Project. |
| 2017 | | | Guam Contractors Association (GCA) Special Safety Award for the Hotel Nikko Piling Work. |
| 2015 – 2017 | | | Associated Builders and Contractors, Inc. STEP Platinum Award which recognizes companies that have a total recordable incident rate that is equal to or below the industry average. |
| 2016 & 2017 | | | Guam Contractors Association (GCA) Excellence in Construction Award. |