Puerto Rico Dump Closure – Saipan, CNMI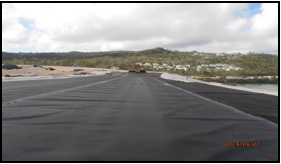 PROJECT DESCRIPTION:
Based on the scope of work description on the specifications of the project, the Puerto Rico Dump Closure has 3 major features of work.
Base Bid: The work on this item consists of demolition and disposal of on-site structures, clearing and stripping, waste relocation, construction of engineered and random fill, installation of drainage and erosion control, installation of the final cover system, installation of landfill gas system, and installation of shoreline tribar revetment system which included significant dredging, seagrass, and mangrove relocation.
Bid Additive 1: The work on this item consists of landscaping; installation of hardscape features including trellis, amphitheater, gravel pathway, entrance stairs, and other appurtenances; and installation of solar lights.
Bid Additive 2: The work on this item consists of the construction of restroom structure; grading; landscaping; installation of waterline, sewer line, lighting system, pavement markings and signs; and construction of asphalt concrete driveway, concrete paved parking area, retaining wall and drainage system.
Were there any significant problems experienced on this project? If so, explain and provide solution.
Actual site conditions (topography) varied considerably from the bid documents that had been compiled almost ten years prior to the award of the contract. Significant erosion over the years created an imbalance in the earthworks which was originally intentioned to be a balanced site. BMC's redesigned revetment incorporated a change to the sea wall which bought the site back to balance.
Contract No.:
659-OS
Project Manager:
Bruce R. Johnson
Project Superintendent:
Augustus "Augie" V. De Leon
QC Manager:
Michael Macam
Original Contract Amount:
$21,994,872.81
Final Contract Amount:
$23,639,923.88 (including CO #1)
Original Contract Completion:
November 08, 2016
Final Contract Completion:
November 23, 2016
(As of Dec. 28, 2015)
Actual Date Contract Accepted:
March 08, 2015
Start Date:
May 18, 2015
Liquidated damages assessed:
$0.00
Owner/Customer Point of Contact:
Commonwealth of the Northern Marianas Islands
Elizabeth Balajadia/Carl Castro
Owner/Customer phone/fax Nos:
Phone No. 670.664.2371
Percentage of work performed:
97%
Was Offeror Prime Contractor or Subcontractor?
Prime Contractor
Customer Evaluation:
None
Notable Features:
BMC presented Value Engineering alternative design for the shoreline protection (revetment) resulting in considerable savings for the CNMI Government.