NOAA Weather Service Station
This weather office had been constructed to replace the existing weather office in Yap. The project was administered by the US Navy, OICC Marianas and constructed for National Oceanic and Atmospheric Administration (NOAA).
The work included the design and construction of two buildings: the Weather Service Office (WSO) – a 2,560 SF office building to accommodate data acquisition and processing systems of the National Weather Service; and the Upper Air Inflation Building (UAIB) – a 408 SF building which facilitates the launching of weather balloons. The facilities were designed to maintain operation during typhoons with a redundant air conditioning system, back-up generator system, and typhoon shutters at all openings. Both buildings were designed for construction using pre-cast concrete wall panels and roof planks. The design of foundations and utilities or government-furnished antennas, ARTS dome, and various exterior instrumentations were included in the overall scope of work.
The structure of both buildings consisted of reinforced concrete spread footings cast integral with the floor system. The floor system was used as a casting bed for the tilt up pre-cast walls and pre-cast roof planks.
The exterior 8" precast walls were finished with a textured coating highlighted by reveals cast into the walls. All conditioned space exterior walls were furred out with metal studs to allow for R-11 battery insulation. All exterior doors and windows are clear aluminum anodized finish. The exterior doors and windows were all protected with roll up shutters for protection during typhoon. The coiling doors at the UAIB Building are electronically operated and specified as class 1, division 2, group B for Hydrogen. The roofing system consisted of a fluid applied elastomeric coating. The underside of the roof slab was insulated with an R-Value of R-17. Interior partitions were metal stud and gypsum board with acoustic insulation. Interior doors were solid core white oak with a transparent finish. Metal doors and frames were G90 with a fluorpolymer finish. Interior walls were typically painted except for the bathrooms where ceramic tile wainscoat had been used. Interior flooring consists of ceramic tile and linoleum. Ceiling finishes were humidity resistant 2' x 2' acoustic tile. The cabinetry was factory assembled solid white oak with natural finish. Countertops are solid polymer.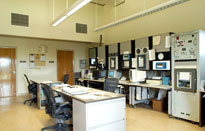 The building was handicap accessible in full compliance with UFAS and ADAAG requirements. The signage also complied with UFAS, ADAAG requirements.
The building air conditioning was a ducted air distribution system using packaged units. The buildings had been provided with a multiplex/addressable analog fire system. Power to the facility is provided through a new 75kVA pad mounted transformer. Black Construction installed a 35KW backup generator, supplied by the government. Lightning protection was provided to both buildings.
Other work included as part of the contract included a new access road, site improvements including perimeter fencing, utility connections, and incidental related works.
The total value of the contract was $1,351,785 which was less than the original contract amount. The project was finished ahead of schedule.
The original Contract Completion date of 22 April 2003 remained unchanged through Modification A00004. However, a late modification, A00005, after final inspection and acceptance of the contract extended the CCD to 19 August 2003. Mod A00005 changed the existing flush valve type toilet to a tank type toilet.
The original contract through Change A00004 was accepted on 16 April 2003. Work under Mod A00005 was accepted on 06 August 2003.


Guam Contractors Association 2003 Excellence in Construction Awards
Contractor of the Year and
Commercial Under $2M-Category Winner
[hr]