GSWA ORDOT DUMP CLOSURE CONSTRUCTION AND DERO ROAD SEWER IMPROVEMENTS
PROJECT DESCRIPTION: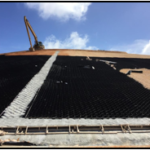 The Ordot Dump Closure and Dero Road Sewer Improvements Project is a 72 acre civil project encompassing all site improvements and underground utilities required for the Government mandated closure of the Ordot Dump. This includes construction of all temporary and permanent facilities, erosion controls, excavation, mass grading, stream relocation, drainage, fill, cap system including geo-synthetics, leachate collection/storage systems, gas flare system, roadways, leachate and sewage collection/conveyance systems, pump station, back up emergency power generator, electrical, security fencing and all other work required for an acceptable, complete and usable project.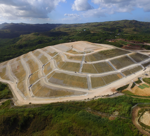 Were there any significant problems experienced on this project? If so, explain and provide solution.
Extremely challenging project due to existing conditions, steep slopes, limited access, and weather challenges. All challenges were overcome by working closely with the owner and CM to come up with cost effective and timely solutions.
Contract No.:
GSWA-002-13
Project Manager:
Wilfredo G. Diwa
Project Superintendent:
Lito Gutierrez
QC Manager:
Art Demanarig
Original Contract Amount:
$40,877,377.00
Final Contract Amount:
$42,569,000.83
Original Contract Completion:
Phase I (Dero Road) – July 31, 2014
Phase II – June 30, 2015
Overall – December 09, 2015
Final Contract Completion:
Phase I (Dero Road) –
January 05, 2015
Phase II – August 15, 2015
Overall – March 20, 2016
Actual Date Contract Accepted:
December 30, 2015
Start Date:
December 10, 2013
Liquidated damages assessed:
$0.00
Owner/Customer Point of Contact:
Guam Solid Waste Management
Chris Lund
Owner/Customer phone/fax Nos:
703.573.5800 phone
Percentage of work performed:
90%
Was Offeror Prime Contractor or Subcontractor?
Prime Contractor
Customer Evaluation:
Past Performance Questionnaire (PPQ) Rating – Exceptional