FY17 MILCON PROJECT P-662 MDA TEST SUPPORT FACILITY – WAKE ISLAND
PROJECT DESCRIPTION:
The Missile Defense Agency (MDA) P-662 Test Support Facility is located on Wake Island, in the western Pacific Ocean in the northeastern area of the Micronesia sub region, approximately 1,500 Nautical miles northeast of Guam and 2,200 miles northwest of Hawaii. The island is under the administrative control of the Department of the United States Air Force under an agreement with the U.S. Department of Interior. Wake Island is within the largest Marine National Monument by proclamation 8336 by President Obama in 2009. The monument is an important part of the most widespread section of Marine and Terrestrial-life protected areas on the planet.
Wake Island's coral atoll is comprised of three islets: Wake, Wilkes, and Peale Island which made the island famous during World War II. Its strategic location serves as an emergency landing area, a trans-Pacific refueling stop for U.S. Military aircraft and supports Missile Defense Agency test activities operated by the United States Army Space and Missile Defense Command. Such activities make entry into Wake heavily restricted and requires special permitting from the Department of Defense.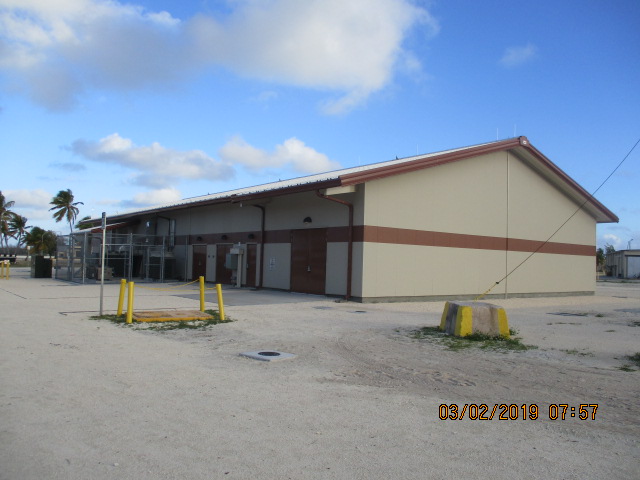 Contracted Scope of Work:
The contracted work scope included construction of a reinforced concrete foundation for the primary pre-engineered steel structure with specialized pre-insulated wall and roof panels. The structure is single story consisting of 8,200 square feet of floor area with mission critical execution workspaces, office spaces, conference rooms, elevated mezzanine storage, restrooms, and mechanical-electrical room. The project includes air conditioning, plumbing, power, lighting, lighting protection, fire alarm, fire suppression, and incidental work.
Supporting scope features included site development work, underground utilities to support the facility; an aggregate based access road; concrete paving and walkways; information/communication infrastructure; connections to support backup power and antiterrorism force protection. The facility was designed to obtain LEED Silver which is currently under the certification process and to provide work space for approximately 60 deployed personnel during missile test events (facility will be unoccupied between test events).

Notable Features of Work:
4000 metric tons of building materials were barged to Wake Island on 2 separate voyages utilizing a 2000DWT flat deck barge towed by 1,500 HP ocean going tug boat
Black Construction conducted UXO clearance requirements on the project site prior to any work being perform to eliminate possible hazards
Air Transportation of manpower to island was limited to available seats on the governments' air lift command which services Wake every 2 weeks. This required close coordination with the government.
Wake Island has no government or private shipping available to service the needs of the island
The existing wharf facilities at the island is limited to small craft and barges with a mean sea level draft of 15ft.
Black recycled and utilized demolished concrete foundations for general fill after proper gradation treatment ensuring maximum sustainable use of local materials
Black removed all construction debris, equipment and other surplus materials at the conclusion of the project on a final 3rd voyage for demobilization.
Contract No.:
N62742-17-C-1305
Owner/Client:
U.S. Department of the Navy
Original Contract Amount:
$12,420,870.00
Final Contract Amount:
$12,420,870.00
Start Date:
September 06, 2017
Original Completion Date:
January 4, 2019
Final Completion Date:
May 24, 2019
Liquidated damages assessed:
None
Percentage of work performed:
100%
Project Manager:
Alren N. Torillo
Job-Site Superintendent:
Robert M. Redolozo
Quality Control Manager:
Noel V. Dublon
Customer Evaluation: None