AMEC Air Conditioning Replacement at Base Lodging B27003 – AAFB, Guam

The project "Replace Air Conditioning at Base Lodging Building B27003" located at Andersen Air Force Base Guam was a complete replacement of the air conditioning system and other major renovation work. On this project, Black Construction acted as a subcontactor to AMEC Earth and Environmental.
The work included miscellaneous demolition and site work, complete replacement of Air Handling Units and Ductwork, complete Variable Air Volume (VAV) system, installation of owner supplied chiller, complete fire detection and fire alarm systems, acoustic ceiling replacement to accommodate new ductwork, and a new Direct Digital Control System.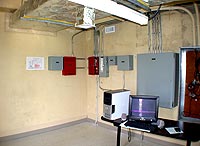 Guam Contractors' Association 2006 Excellence in Construction Awards
CONTRACTOR OF THE YEAR- 2nd Place and
Mechanical-Commercial Under $2M Category Winner
[hr]