Repair Shoreline Revetment – Diego Garcia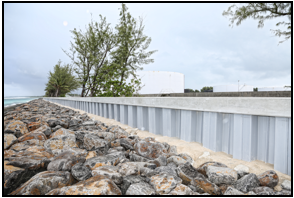 PROJECT DESCRIPTION:
The Shoreline Revetment Project is located at U.S. Navy Support Facility (NSF) Diego Garcia; a coral horseshoe-shaped atoll nicknamed "Footprint of Freedom" in the Indian Ocean within the British Indian Ocean Territory (B.I.O.T.). The island is located south of equator approximately 2900 kilometers southwest of Bombay, India and approximately 2400 kilometers northeast of Mauritius, 4,723 km west-northwest of the west coast of Australia, and approximately 8,906 kilometers southwest of Guam.
Contracted Scope of Work: This Design-Build project will repair this existing shoreline revetment approximately 1,080 ft. (329.2 m) along DG-2 road, at the back of POL farm. The project includes design of revetment (including services of Professional Coastal Engineer, Geotechnical Engineer and Land Surveyor), procurement and shipping of all required materials and equipment to Diego Garcia.
Notable Features of Work included:
Conducting a site investigation to validate the geotechnical analysis, topographic survey and verification of oceanographic design parameters for the design of the wave and slope protection using 500 to 800 lbs. underlayer stone and 2.5 to 4 tons armor rocks.
Procurement and delivery of materials and equipment from Continental U.S. via a chartered barge from Guam to Diego Garcia.
Loading and barging of underlayer stone and armor rocks from Mauritius to DG.
Clearing of shoreline vegetation, including locally grown shrub, e.g. scaevola, coconut trees and ironwood trees, to establish equipment, materials and manpower access corridors.
Removal and disposal of existing revetment materials including undersized rocks, stones, concrete blocks and slabs, concrete rubbles and masonry blocks.
Rock breaking of the toe for the construction of the new engineered wave and slope protection.
Profile excavation of the base and slope of the new engineered wave and slope protection and placing of the geotextile fabric.
Proper placement of the under-layer stone and armor rock during low tide.
Pilot auger and pile driving of the PVC sheet piles for the splash wall.
Concreting of the splash wall concrete backing footing, wall and coping beam.
Removal of excess materials and disposal of construction debris.
Re-planting of scaevola to restore area vegetation.

Owner:
U.S. Department of the Navy
Contract No.:
N62742-14-D-1303 Task Order 0020
Original Contract Amount:
$12,953,830.97
Final Contract Amount:
$12,922,876.64
Original Contract Completion Date:
August 01, 2017
Final Contract Completion Date:
July 05, 2017
Start Date:
August 02, 2016
Contact Name:
Cecille C. Penaflorida – PMEB Director
315.370.3560
Was Offeror Prime Contractor or Subcontractor:
Prime
Percentage of Work Performed:
100%
Liquidated Damages Assessed:
None
Project Manager:
Adolfo Nierva (Guam)
Mario Agsoy (Diego Garcia)
Job-Site Superintendent:
Lito O. Gutierrez
Customer Evaluation:
Final – Satisfactory