Repairs to Cabras #4 Power Plants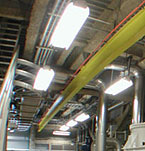 This project was awarded to Black Construction Corporation for $2.44M to replace and restore equipment and facilities damaged by a fire at the GPA Cabras No. 4, 40MW baseload generator. As a result of GPA's demand for a reserve baseload generator, the contract required the completion of all work within 120 calendar days from the Notice to Proceed.
Another significant factor for achieving the contract completion date was a $15,000 a day penalty as liquidated damages for all days worked beyond the contract completion deadline.
The scope of work for the Cabras #4 Power Plant consisted of the following replacement and restoration of equipment and facilities:
ARCHITECTURAL AND CIVIL:

Fire damaged Fuel Oil Pump Room

Applied fireproofing materials on existing structural steel members

New Motor Control Center (MCC 402)
Removal and re-application of cementitious fire-proofing materials on existing structural steel members, epoxy painting of floors and 36,000 SF of structural steel;
Cracked repair works and application of epoxy paint to existing concrete floor slab at the Mechanical and Operating floor with a total area of 15,000 SF;
Erection of pour-in-place Fuel Oil containment concrete berm at the Fuel Oil Pump room; and
Two (2) sets of 5-ton motorized trolleys and hoist with monorail
MECHANICAL:
Two (2) each, 10 HP circulating fuel pumps for Heavy Fuel Oil No. 6 (viscosity of 5 to 15 centipoise, temperature of 75 to 120 deg. C, and capacity of 21.6 cubic meters per hour), piping, valves, insulation and metal jacket
Two (2) each, 60 HP jacket cooling water pumps with capacity of 320 cubic meters per hour and associated piping;
One (1) each 10″ diameter 3-way modulating valve for the engine cooling water system;
Installation of owner-furnished CETAL Fuel Oil Heater; and
Installed one (1) each In-Line Viscosity Analyzer on the fuel oil system.
ELECTRICAL:
Two (2) sets Motor Control Centers and associated conduits and cables;
Tracing and restoring equipment controls and instrumentation which interlock to existing No. 4 Control Room;
Installation of new heat tracing monitoring control panels and heater cables to the fuel oil piping system;
Electrical sensing and measuring equipment and accessories;
450 lineal feet of electrical cable tray;
4,200 lineal feet of electrical conduits;
32,000 lineal feet of power and control wires/ cables including termination;
Installation of new lighting fixtures in various locations at Cabras Unit No. 4;
Upgrade of fire alarm detection system; and
Paging and intercom system.