Matson Office Building – Guam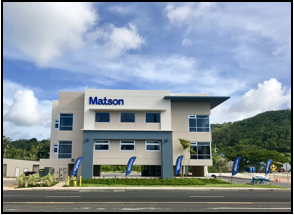 PROJECT DESCRIPTION:
The Matson Office Building project was borne after an unfortunate fire ruined their prior office space at the Port Authority of Guam. The building is three-stories high with approximately 10,414 square feet of office space on the second and third floors. Working with our design partner, RIM Architects, Black Construction Corp. (BCC) put forth the design concept that has become a landmark building located on Chorito Boulevard (Marine Corps Drive) across from the Governor's offices at Adelup, Guam with great views of the Philippine Sea.
Contracted Scope of Work included:
The Matson Office Building project involved the construction of a three-story commercial office building with parking on the ground floor designed as cast-in-place concrete structure with a total gross floor area of approximately 13,500 square feet. Structural work included reinforced concrete including foundations, slabs-on-grade, grade beams, cast-in-place concrete columns, reinforced concrete decking, concrete masonry walls and non-structural framing. The ground floor of the building is used for reserved parking and utility support for the building while the far west corner provides a very efficient elevator lobby and stair well to the 2nd & 3rd floors.
Notable Features of Work included:
An energy efficient building consisting of LED lighting, motion sensor switches, insulated walls and ceilings, and a variable refrigerant flow air conditioning system
Constructing office spaces on the 2nd and 3rd floors to meet floodplain construction codes
Façade architectural eyebrows that complimented the energy efficiency of the building
Installation of typhoon rated glazed aluminum windows and doors
Building designed to withstand a 300kph (185mph) typhoon
Connecting the sanitary sewer line from the new building into the main GWA sewer on Route 1
Removing a culturally sensitive high value monkey pod tree
Removal of archeological findings (ancient skeletal remains and artifacts) for reinterment.
Removal of Munitions and Explosives of Concern (MEC) or Unexploded Ordnance (UXO) on site
Installation of a hydraulic traction elevator
Installation of a 200kw generator with an automatic transfer switch sized to meet 100% with reserve capacity
Installation of a potable water softener system with a 500 gallon reserve
Construction of historical infiltration percolation chambers to meet U.S. and Local EPA storm water compliance standards
Installation of local art collection throughout the 3rd floor office space
Stairwell extended to provide rooftop access for social events
Roof layout planned for future solar panels
Contract No.:
None
Project Manager:
Harry S. Chawney
Original Contract Amount:
$4,423,063.00
Final Contract Amount:
$4,928,860.00
Start Date:
June 20, 2016
Original Contract Completion:
May 16, 2017
Final Contract Completion:
June 13, 2017
Liquidated damages assessed:
$0.00
Offeror:
Prime Contractor
Percentage of work performed:
Prime Contractor – 85%
Customer Evaluation:
Final – "Outstanding"