Wholehouse Revitalization, Lockwood Terraces

This modified "design-build" contact required the refurbishment of 48 three-bedroom and 22 four-bedroom housing units. In addition to normal design requirements, four of the units were altered to accommodate handicap standards in accordance with the American Disability Act.
The improvements involved architectural finishes such as new carpeting, ceramic and vinyl floor tiles, aluminum and wood doors and typhoon rated aluminum windows. The upgrades to the kitchen included the installation of new cabinetry with glass face wall cabinets and solid polymer counter tips. Energy efficient appliances – kitchen range, water heater, dishwasher and garbage disposal, were installed. Bathrooms required total gutting and the installation of new interior wall for the new tub/shower, new flooring, and vanity.
Structural improvements to the units included reconfiguration of the kitchen, dining, and bathroom areas. The garage was widened and enclosed with a remote-controlled garage door. The additional covered patio, garage storage room, and entry wee a "design-build" contract.
The mechanical works included replacement of the air conditioning system with package split-type units on modified existing ducting system. It also included new domestic hot and cold water system and plumbing works. The electrical works included the total rewiring, provision of new service equipment, devices, and light fixtures. It also included the replacement of overhead service lines, smoke detection system and emergency lighting system.
The challenging aspects of this project were the aggressive schedule and concerns for the disruption to and safety of the residents. The aggressive schedule required the turnover of 12 units every month. As carefully planned, the area was divided into 12-unit increments and by close coordination with OICC and PWC Housing, tenants were moved in precise timing. The sequencing allowed for continuity of work and minimal disturbance to the residence. Temporary fences were constructed to separate the units for renovation from houses with tenants. Roads were kept open and cleaned daily with proper signs installed advising residents of changes. BCC's excellent management, skilled workforce and resources allowed for completion of the project 32 days ahead of schedule with no complaints from the residents.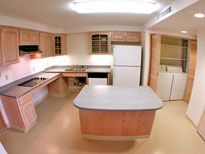 Additionally, the Owner changed the original materials specified after completion of the model units posing significant impacts to the schedule and cost. BCC coordinated the request of Housing with OICC and provided material variation and related cost information minimizing schedule and cost impacts to the project. And, an ADB subcontractor failed to perform according to the requirements of the agreement. BCC informed OICC and the subcontractor was defaulted prior to significant impacts to the project.
There were no liquidated damages assessed nor were there any disputes or claims on this project.


2001 Excellence in Construction Award
Associated Builders & Contractors/Guam Contractors Association
[hr]