Hyatt Regency Guam — Typhoon Damage Repairs

The Typhoon Pongsona rebuild of the Hyatt Regency Guam Hotel was a project undertaken by Black Construction Corporation that dramatically expanded from an original $2,000,000 90 day contract to $3,700,000 with completion in September 2003 instead of the originally intended June 2003 date. The control issue of the total scope of work was mold remediation prior to damage rehabilitation. The rebuild was primarily confined to interior restoration of the guest rooms, guest room corridor, guest and service elevators, lobbies and back of house areas which included the main Administration location.
Contractual phases included the following:
Environmental Assessment — Qualitative
Environmental Assessment — Quantitative
Mold Remediation

Demolition
Treatment

Architectural Assessment
Architectural Demolition
Framing Rebuild
Lining Rebuild
Finishing Applications
Furniture, Fixtures and Electrical
Cleaning
Architectural Punch List
Internal Housekeeping Punch List
Handover of Floor Back to Hotel
The total number of guest rooms was 296. At the start of the project, the visual impact of mold occurrence was around 13,000 sq ft of wall and ceiling area of the total top floor, but this figure increased to approximately 35,000 sq ft as work proceeded down the hotel tower. Furthermore, the effect on the hotel′s services of air-conditioning, sprinkler system, and electrical configuration brought bearing into the overall construction also. Remediation of these items was realized to be imperative to prevent future mold reoccurrence.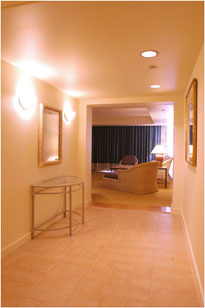 As per the size of work mentioned above, the contract value of the project soon accelerated also from the original projected value of $2,000,000, however, at the end of the project the value was pinned to $3,700,000 with a dramatic expansion of the time frame for completion.
Black Construction Corporation being the General Contractor performed 65% of the overall contract work. The balance was performed by the painting sub-contractor, GMS Painting (Guam) and Glass Concepts who were hired to rebuild the glazing system that separated the guest rooms from the outside environment. Advance Management was also a sub-contractor for the cleaning work toward the end of each floor cycle.
The project was not a pure Design-Build undertaking, but allowed input into the reconstruction to accommodate newer technologies, efficiencies, and visual parameters that would enhance the re-marketing of the hotel. For example, an automotive paint was applied to all sliding louver doors to prevent the reemergence of mold, provide a stronger abuse resistive surface, ending with a highly glossy and cleaner appearance. A painting "production line" methodology was implemented to increase the painting process of doors, FCU′s, covers and timeliness of output.


Guam Contractors Association 2004 Excellence in Construction Awards
Contractor of the Year
and Commercial Under $2M-Category Winner
[hr]