SANDY BEACH HOMES – SAIPAN, CNMI
PROJECT DESCRIPTION:
The $15,995,000 contract was to build an affordable housing project as part of the American Recovery and Reinvestment Act. (ARRA) funds.  The Project consisted of 60 units made up of 3 bedroom 2 bath apartment units. The MAT foundation included grade beams throughout requiring 3200 cubic yards of concrete.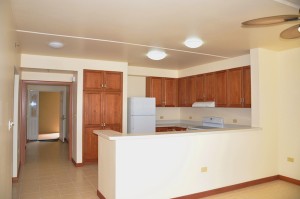 The Structural Frame was made up of cast in place columns, walls and beams with pre -stressed, planks and topping completing the composite concrete frame to seven stories including the roof, parapet and reserve water tanks. The interior/exterior finishes are complimented by island style tile and Bahama shutters and Grilles creating a unique affordable housing project. The scope of work also included building a pre cast bed  in Saipan to manufactur the Pre-stressed planks for the project.